St George in Bloom Selected as an RHS Britain in Bloom Finalist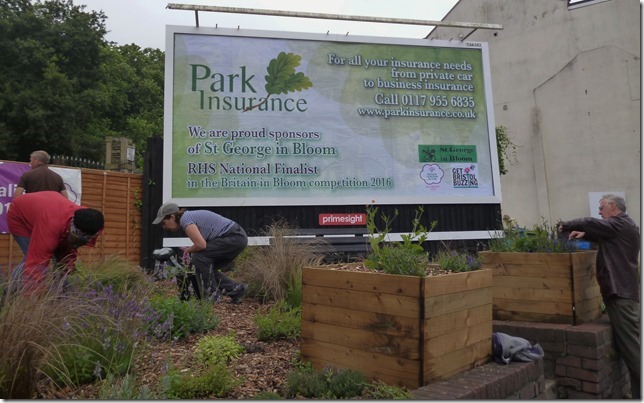 St George in Bloom's have been selected as an RHS Britain in Bloom Finalist 2016. This is currently being celebrated with a large poster that is displayed at the Billboards site at Church Road, St George, Bristol.
St George in Bloom Selected as RHS Britain in Bloom Finalists 2016
Park Insurance at Church Road have generously funded a large poster that is now proudly displayed at the billboards site. They have also very kindly provided financial support for St George in Bloom as their main sponsor since the establishment of this voluntary group in 2014.
The billboards site has recently been enhanced with a planting scheme that was funded by an RHS 'Grey to Green Health and Happiness' award. Park Insurance continued their generosity by donating a bench that St George in Bloom has installed to provide passersby with a place to sit, relax and enjoy the implemented natural features.
Here at Bowland Stone, we decided to also highlight the commitment and dedication of St George in Bloom. We were very honoured to donate new fence panels to enhance multiple areas across the site. Members of the Aviva Insurance community outreach team joined the St George in Bloom Volunteers to carry out some of the planting and also erected the fence panels that we provided.
This year, St George in Bloom are a national finalist in the RHS Britain in Bloom competition in the Urban category, and we wish them the best of luck with this fantastic project. It is an extremely impressive feat to become an RHS Finalist and this demonstrates the extraordinary efforts undertaken by these individuals to improve and strengthen community ties within Bristol. This nomination also highlights their selfless efforts and commitments to improving the environment and green spaces across the city.
St George in Bloom's official website can be found here: http://www.stgeorgeinbloom.org.uk/