Composite Decking Bristol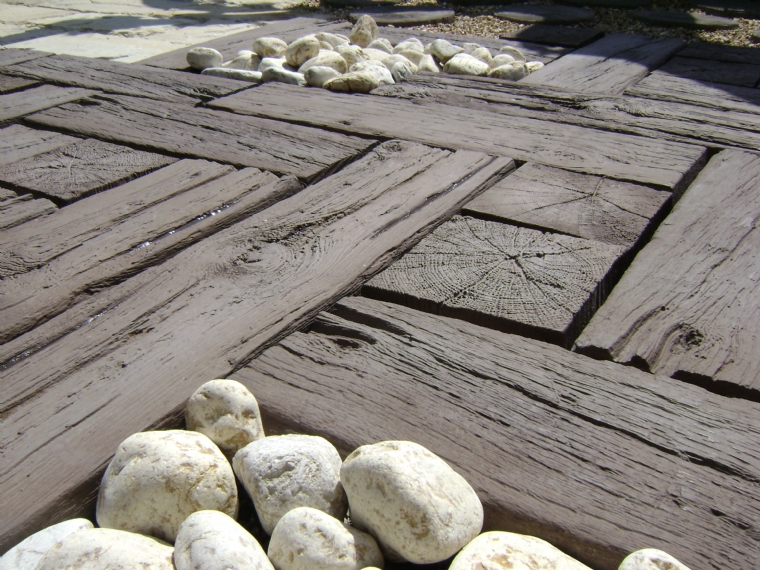 Composite decking is an exciting alternative to wood decking, mainly due to longevity and environmental consideration. Many areas are affected by differing weather conditions and in some situations, wood decking is not a viable choice in these environments.
Composite Decking in Bristol
Composite decking is often an extremely viable solution but it is also a sensible investment for a garden in any area. But what are the features of and processes behind composite decking? And how could these features convince you to consider installing composite decking in your garden space?Here at Bowland Stone in Bristol, we have recently started to stock and invest into composite decking and we feel that it is an exciting and cost effective way of bringing vibrance and sophistication to your garden design.
What exactly is composite decking?
Composite decking is a combination of wood and other materials such as rubber and other plastics. This combination allows the wood to resist the elements more effectively and offer a wide range of defences that regular wood cannot defend itself against. Until the 1990s, wood was the material of choice for deck construction. However, new products, composites, began to emerge at this time. These new products offered the look and workability of wood, but they were more water resistant and required less maintenance. Over time, these lower maintenance decking options increased in popularity. Although the majority of decks are still built of pressure treated pine, redwood, cedar or mahogany, use of composite woods has increased as outdoor decks and living areas have become popular as home features.
What are the Advantages of Composite Decking?
Composite decking will not rot, crack, peel, or splinter.

Minimal maintenance required for these wood composites.

Generally guaranteed to remain undamaged or unfaded for at least 50 years.

Extremely stain resistant.

Graffiti and scratch-proof.

Waterproof to any kind of water.

UV resistant.

Impervious to pests and other bacteria that will try to eat away the wood.

Not affected by cleaning products, chemicals, severe weather or intense sunlight.

Extremely easy to clean and maintain.

Mould resistant and also extremely resistant to mildew.

Scope for customisation of the colour of the decking.

Wood grain finish imitates classic wood but still contains all of the protection elements.

Cost efficient in terms of the amount of aspects it defends against.

Environmentally friendly, plastics that are used are recycled plastics.
Composite Decking Consideration Points
Composite decking does require a higher initial investment however the advantages are apparent. The higher initial investment that you put into composite decking returns itself mainly by the weather resistance and anti-pest qualities that the composite decking contains. Fade resistance, UV resistance and water resistance result in low maintenance which also contributes to the extremely cost effective nature of composite decking. The composite will eventually show signs of wear after many years however this is an extremely long period of time and the only effect that the decking will suffer from is this. There is no need to stain, sand or paint the material which results in slightly reduced customisation potential however the colour selection and imitation of wood grain that is available with composite decking makes up for this point of consideration.
Fit Composite Decking Today
Composite decking is a viable alternative to wood decking and is a great implementation within landscaping. Pests will not eat the decking, the decking will resist the elements and the concept decking creation process is extremely environmentally friendly. There are a huge array of advantages that are well worth the slightly higher initial investment price. If you are in an area that is affected with rain for example and require extra protection from the elements with your decking then composite decking would be the perfect solution in this scenario. If you are interested in finding out more about the various aspects, the processes involving and the advantages of composite decking, or if you are interested in seeing some of our timber products and want to find out about composite decking then come on down to Bowland Stone in Bristol today or call us on 0117 995 7530